Back to all posts
Posted on
Three Year Old Screening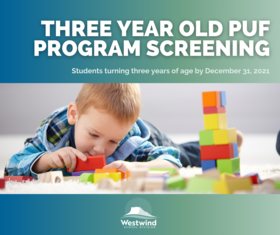 If your child turns three years of age by December 31, 2021, and you have questions or concerns about his/her development, you can participate in a screening for eligibility to the three-year-old PUF program. 
The PUF Program is funded by Alberta Education and is programming that is developed for young children who present with moderate to severe delays in the areas of communication, social/emotional, or medical needs.  If you would like further information or to schedule a speech/language assessment for your child, please contact Sue Koegler at 403-752-3004 ext. 2 or email at sue.koegler@westwind.ab.ca.
Early Intervention provides children and families with increased support so that a child can increase their potential for a positive trajectory of life-long learning.       
A child turning three years old should be able to:
Consistently use 2-3 word phrases
Be understood at least 75%of the time by unfamiliar listeners
Use plurals (ie. dogs)
Use "in" and "on"
Ask "what" and "where" questions
Follow 2-step unrelated directions ("give me the ball and go get your coat")
Understand basic nouns and pronouns
Understand "mine" and "yours"
Understand most simple sentences
Understand "why" questions
If your child struggles with any of these speech/language milestones, an assessment would be recommended.