Breakfast Program
Elementary Breakfast Program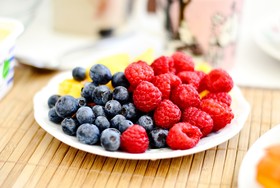 "Why a school breakfast program? Eating breakfast improves overall health and well-being of children and youth.  Those who eat breakfast regularly are more likely to meet their nutrient requirements than those who miss breakfast. When students eat breakfast before school starts, they may perform better throughout the morning hours in the following areas: readiness to learn, memory, and ability to stay present and focus on classroom activities.
There are many reasons why children miss breakfast
Children and youth may not feel hungry early in the morning.
Children and youth may feel unwell if eating early in the morning.
The family may not have time to prepare and eat breakfast.
Children and youth want and need more sleep.
Families may not model eating breakfast on a regular basis.
Parents may not be available at breakfast time.
Families may not have enough money to buy enough food.
There may not be food available that appeals to them.
Children may not understand why breakfast is important.
School breakfast program can help to ensure that students have another opportunity to eat before they start their day."  (Alberta Health Services, 2018).
As part of this Government of Alberta initiative, our school has joined the other elementary schools in our division in providing something for our elementary students.  This initiative targets elementary students --- this program should not replace what you provide for your child(ren).  We want to encourage you to continue to provide breakfast at home and school will supplement a little something to help the children through the day.  Because our school is a PreK-12, we cannot provide this program to our whole school population, just yet.  If you are in a position to donate a bag of apples, oranges, cheese strings, yogurt tubes, bananas, something quick easy and nutritious, etc… we could start providing a little something to the older students as well.  If you have any questions or concerns please do not hesitate to contact us at the school.